It is critical to comprehend the significance of producing a successful Amazon catalog listing. Your listing serves as your storefront and provides potential customers with their first impression of your product. A well-crafted listing can make or break your ability to generate sales and develop a successful business on Amazon. But, with so many products on the market, how can you ensure that your catalog listing stands out? In this article, we'll go through the essential components of designing a captivating Amazon catalog listing that will attract customers and increase sales.
What is Amazon Catalog Listing
There are billions and billions of products sold on Amazon. Moreover, it is not necessary for someone who has sold a similar product to sell it first. When adding a new product on Amazon Catalog Listing, you can actually match it to an existing product by using the add product feature. We know that Amazon's catalog Listing features products sold by many sellers. It allows product matching to eliminate duplicate listings and prevent the product from appearing multiple times. Good product matching directly benefits you because this also gives you the current reviews and ratings as well. By matching your product with an existing listing, you ensure that your products will be found by customers.
Add Product in Catalog Listing
Firstly, you have to log into your seller account. Once you are in you need to add a product to Amazon catalog listing you can do that by clicking the inventory tab and selecting Add a Product on the drop-down or by clicking the catalog tab by selecting Products on the drop-down.
Both will take you to the same page. In order to match your item you need to look for a similar item that is already listed on Amazon.

Selecting Product Adding Option
You can use the product name or UPC, EAN, ISBN, and ASIN to list on Amazon catalog listing. Likely, there will be so many products on the result but you have to choose the identical item from there. Specify the condition of the item that you are selling and click the sell this product button the only fields that are required are the price, the quantity, and the condition. You can indicate the seller's rescue but it can't be changed once you have submitted your offer.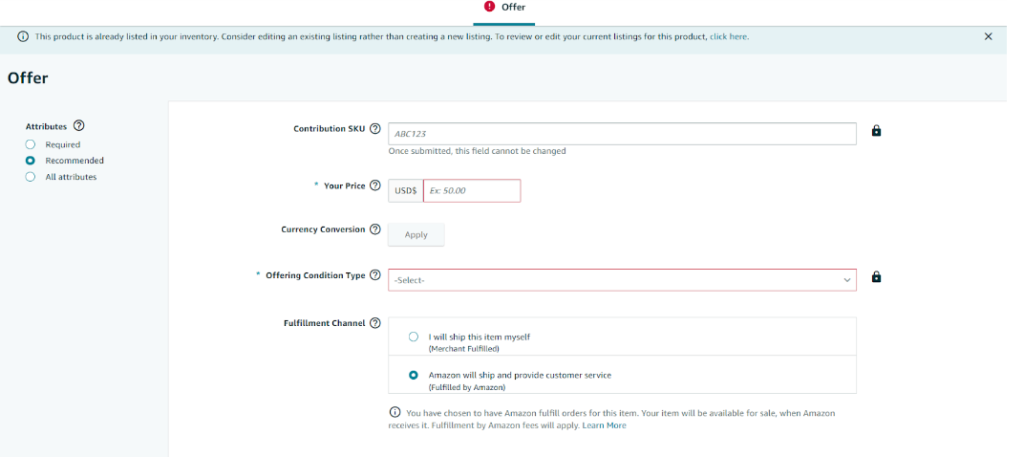 Choosing Fulfilment Channel on Amazon Catalog Listing
Once you have filled in the required fields you can choose your fulfillment channel. If you select Amazon FBA as your fulfillment channel then the quantity field will be removed.
Adding Aditional Information
If you want to add additional details to your Amazon catalog listing you can also turn on the advanced view. This is where you can specify your product tax code if there is any and a sale price if you will be running a promotion on your item. You can also offer a gifting option for your package. Check the box if you want to remember the setting the next time you will be listing a similar item like this.
Publishing New Listing on Amazon Catalog Listing
Once you have filled in all the required fields on the Amazon catalog listing, the save and finish buttons will be available. Just click it and your item will be posted and available on Amazon within 15 minutes.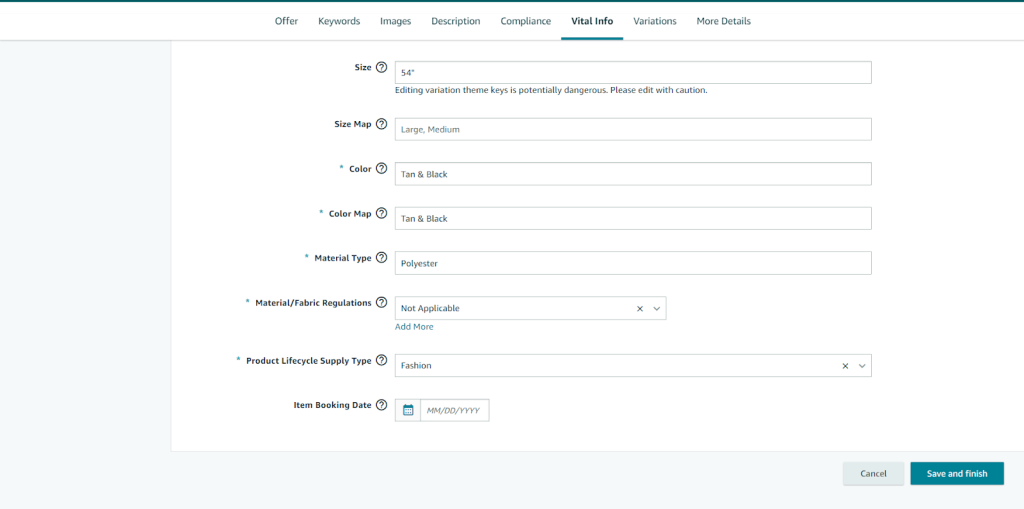 Conclusion:
Amazon catalog listings offer a powerful platform for businesses to showcase their products to millions of potential customers worldwide. By optimizing your listing with high-quality images, detailed descriptions, and accurate product information, you can increase your chances of capturing the attention of shoppers and driving sales. Additionally, utilizing Amazon's advertising tools and customer feedback can further enhance your listing's visibility and credibility. With the right approach and strategy, your Amazon catalog listing has the potential to be a game-changer for your business and help you reach new heights of success in the online marketplace. So, start creating your winning catalog listing today and take advantage of the endless opportunities Amazon has to offer!
If you think this post has been helpful for you, please share this post with your friends and the e-commerce community. You can also check out our website www.boostonamazon.com and get more updates! Keep browsing our blog to get more articles related to Amazon.