If you are selling customizable or personalize products on Amazon, Then you should add a custom option on your Amazon listing. This will let your customer know how the product will look after adding customizable text or images.
What is Amazon Custom Program
If you offer personalized or customized products on Amazon, you should include a custom option in your Amazon listing. This will show your consumer how the product will look once they have added personalized text or images to it. Before they add to the cart, you can provide your customer text, image, or option personalization. Here are some things you should know before you start customizing your products. You must be an experienced vendor for Amazon customers. Individual sellers are unable to provide custom options. You must apply for the Amazon Custom program after upgrading your Amazon account to a professional seller.

Customizing Amazon Listing
If you are an Amazon seller, you might have noticed that there is an option to customize your product listing. This is a great way to make your products stand out and attract more customers. Customization options allow customers to add their personal touch to the product, and it also gives you the chance to charge a premium for your customized products. In this blog post, we will walk you through the process of creating customization options for your Amazon products.
Upgrade Your Account to Professional Seller
To access Amazon's customization listing tool, you must first upgrade your account to a professional seller. Once you have upgraded, go to the "Custom Program" option from the growth tab and click "Register" to complete your registration.
Add Customization Option to Your Listing
To add a customization option to your listing, go to your seller central account and click "Inventory Management" from the "Inventory" tab. Then search for the items you want to add a custom option to and click on the "Edit" option. Next, go to "Add/Edit Customisation Information", where you can see the edit customization page. Here, you will have two options: Text Customization and Image Customization.
Text Customization
In text customization, you can specify font size & style, text color, character count, character types, and the number of lines. Text customization can be used for engraving, embroidery, and more. First, select the image customization option and upload a 400×400 pixel image for adding customization. Next, select "Text" to create the Text customization option. You can then select the label for the font style and add instructions for your customer. You can also offer multiple font styles for the customer. After that, add a label for the color and add instructions for the customer. You can provide multiple colors for the text, and then add a label for the text. You can limit the character type, the number of characters, and the line customization. Additionally, you can display and input examples for your customer. Once you have set up your customization, you can preview it before publishing.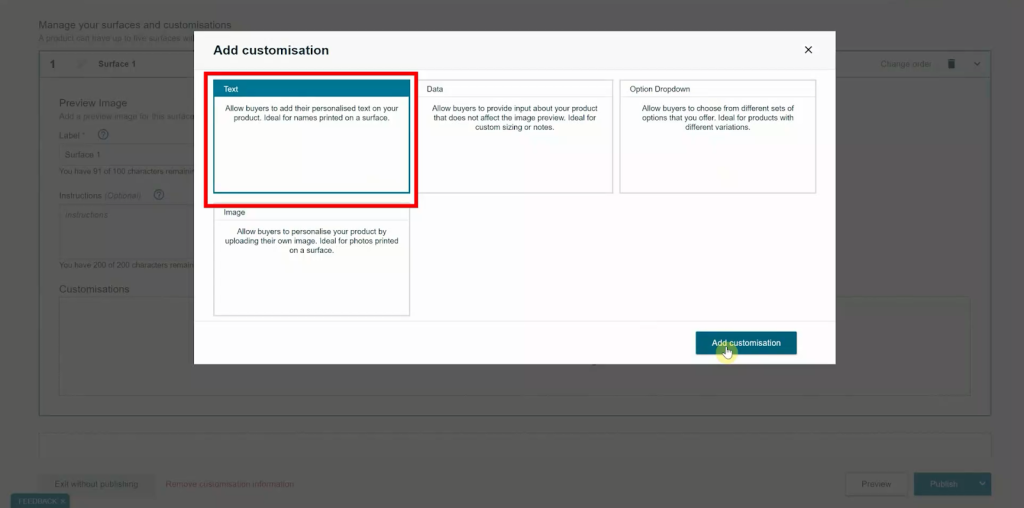 Image Customization
For image customization, select the 400×400 pixel image where the image will be printed. You can add a masking image to limit the visible area on which part of the image will be shown. You can create a masking image with Photoshop and save it in PNG format. Then, select "Add Customisation" and then "Image Customisation". Now, select a label and then an instruction if you wish to. Next, select the area of the image. You can select a rectangle shape or use a clipping mask to show any part of the image with any shape. You can preview your customization before publishing.
Option Customization
Option customization allows you to offer your customer the choice of selecting their requirements from multiple options. For example, you may want to provide your customer with a product with or without a gift box. In each case, the price will also differ. You can customize this option by using option customization and setting an additional fee on the option drop-down for the box or maybe you need to include or exclude something. You can have the flexibility to adjust your production facilities with the help of the customization option.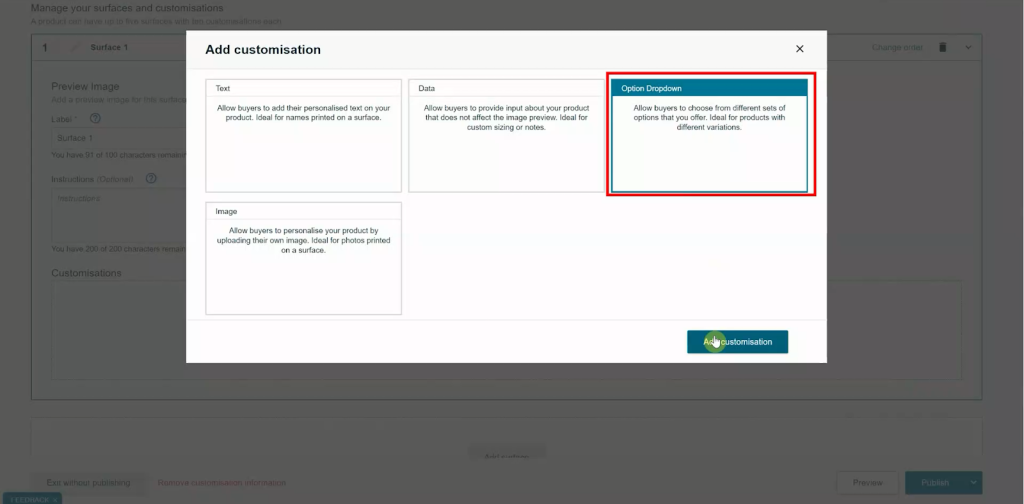 Conclusion
The Amazon Custom Program gives retailers a one-of-a-kind opportunity to offer bespoke products to their customers. Sellers can quickly edit their Amazon listings with text, image, and option customization choices by following the step-by-step approach indicated above. Personalization not only improves customers' shopping experience for customers, but it also allows businesses to stand out from the crowd and increase sales. However, it is vital to remember, however, that being the unique seller of a listing is required to utilize the Amazon custom option. With these ideas and methods, sellers may take advantage of the Amazon Custom Program and provide their customers with an exceptional buying experience. Begin personalizing your listings today to stand out in the Amazon marketplace!
If you think this post has been helpful for you, please share this post with your friends and the e-commerce community. You can also check out our website www.boostonamazon.com
and get more updates! Keep browsing our blog to get more articles related to Amazon.