Selling on Amazon Vendor Central (AMZ VC) can be a great way to reach millions of customers and increase your sales. However, if you want to stand out from the crowd and boost your visibility, you need to make the most of the features available to you. One such feature is the ability to create variations for your product listings. By grouping similar products, you can increase your chances of being found by customers, improve their shopping experience, and ultimately drive more sales. In this article, we'll show you how to create a variation on AMZ VC and explore the benefits it can bring to your business.
Benefits of Amazon Variation Listing
Selling on Amazon can be a great way to grow your business, but it can also be challenging to stand out among thousands of other sellers. One way to improve your visibility and increase sales is by using Amazon Variation Listing. By creating a variation, you can list different versions of the same product under one parent listing, making it easier for customers to find what they're looking for and improving their shopping experience. But that's not all – in this blog post, we'll explore the many benefits of using Amazon Variation Listing, including increased visibility, sales, and cross-selling opportunities, as well as an extended keyword pool and improved shopping experience for your customers. So, let's dive in and learn how to take advantage of this powerful tool for Amazon sellers!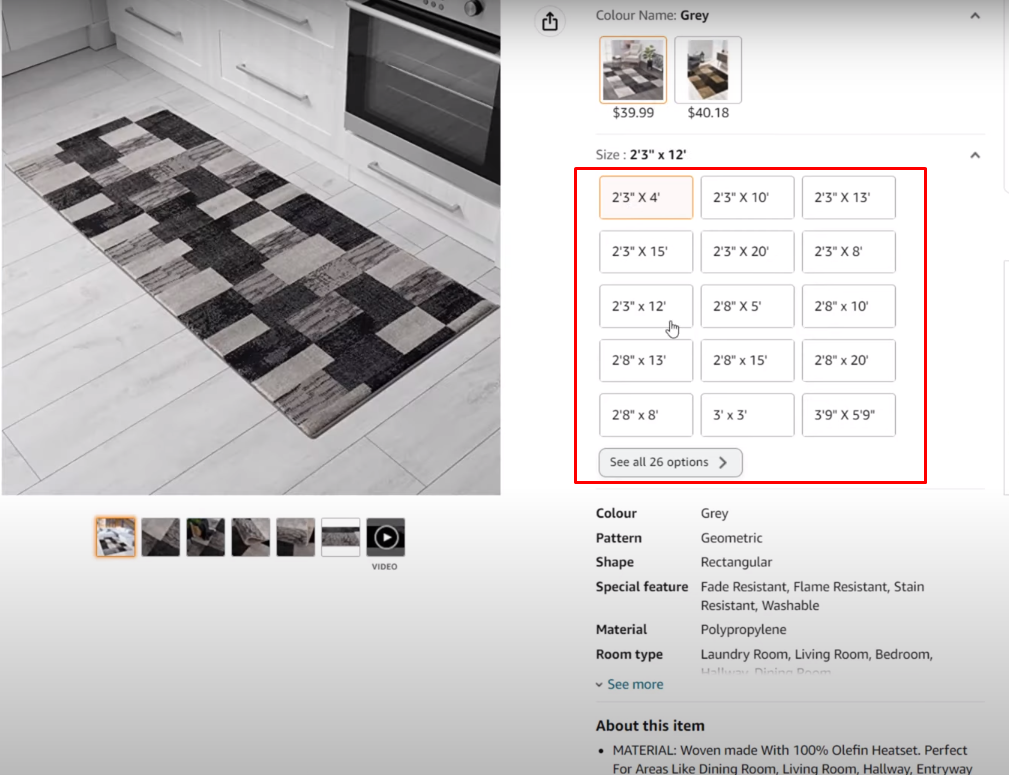 Here are some useful strategies that can help significantly boost your Amazon selling strategy.
Increased Visibility
Increased Sales
Extended Keyword Pool
Improved Shopping Experience
Increased Chances of Cross-Selling
Increased Visibility
Combining low-performing or new listings alongside high-performing listings might help you enhance the visibility of your low-performing or new listings. For example, if you want to add a new item to the inventory management, instead of generating a new Amazon product listing, you may add your new product listing as a child to an existing item. Because your high-ranking listing has favorable ratings, your buyers will think that its variation item will be just as good, based on the positive evaluations of its parent.
Increased Sales
Variations increase your exposure on Amazon, leading to more successful listings. It also implies you'll obtain more reviews and, as a result, a larger market presence. Each sale from your parent-child listing is recorded in the sales record for that listing when you use variants. As a consequence, Amazon ranks you higher, allowing more people to locate your items.
Extended Keyword Pool
Variations allow clients to easily locate what they are searching for without having to scroll through many pages. Good ratings and sales help Amazon to place your listing toward the top of search results for relevant keywords.
When looking for an area rug, for example, most customers have no idea what design or color they desire. They go through the search results for one. If you have a rug offering that includes an "oriental" variant and has strong sales and reviews, Amazon will place your item at the top of the search results for "oriental rug."
Improved Shopping Experience
Buyers can locate all the numerous varieties of the product they are looking for on one page when they explore your product listing page. It's so much easier than switching from one product variation to another with its listing. When customers pick a product variant, the website immediately changes the pricing, bullet points, and descriptions for that exact variation. Buyers may also mix variables such as size and color on the same page.
Increased Chances of Cross-Selling
When a consumer watches a product variant, Amazon recommends comparable ones that other customers have purchased. Amazon's algorithm is quite sophisticated, and it will forecast a different variety that a client may also appreciate. This easy technique can help Amazon merchants raise their sales. Now, let's look at how to determine whether you need to create listing variations or not.
How To Create Variation Listing on Amazon Vendor
First, we must log into your Vendor account at Amazon Vendor Central. You can see these items are listed on the AMZ VC individually. So, we want to create variation listings for these items. Since Vendor Central doesn't have a variation feature, we will need to submit the changes via a ticket to Vendor Support. So, go to the 'Support' page and then click on 'Contact Us' from below the page.
Step 1: Go To Manage My Catalog On Amazon Vendor Portal
Here, select the 'Manage My Catalog' option. After the dropdown is expended click on 'Product Linking'. Download the 'Variations Spreadsheet' from here. For further processing and leave this page as it is. Now, we need to fill up the template spreadsheet as needed.
Open the spreadsheet you just downloaded and fill out the 'Variation Requeat' sheet. Here, you will see a few examples to help you out that need to be removed before submission.
In the very first column, you need to set the variation group numbers. Please remember, if you want to fill up the template for multiple groups at a time you need to leave a free row after each different family. In the next column 'P' on the first row of the group family and for the rest of the items write 'C' to indicate the parent and child items.

Then fill out the ASINs and Titles of the items accordingly and write the brand name of the items. In the next column if the ASIN is already in another variation then write Yes, else write No. The next column is the 'Variation Theme' column where you will have to Add the name of the variation theme that will vary the child ASINs. Each family can have a maximum of 2 variation theme names where the second is optional. You can find all the Amazon-supported variation themes in the 'Variation Themes' sheet in the same file.
In the next three columns carefully fill out the STYLE, SIZE, and COLOUR names for each item as most of the time we use them as variation themes. You need to fill out the rest of the 'REQUIRED' fields according to your product.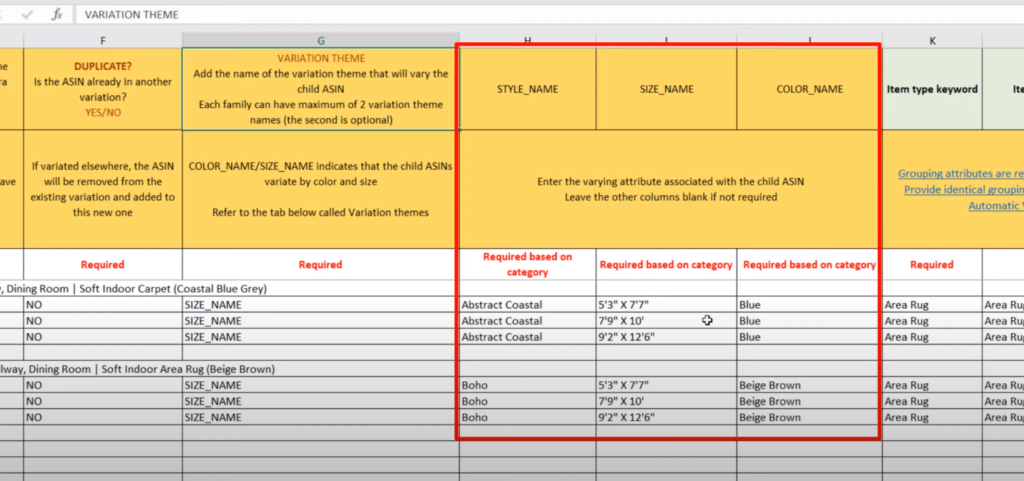 Step 2: Go To Support To Submit the Feed
Once we are done with the feed template let's get back to the support page from where we downloaded the template.
To request a variation via case filing, click on 'send an email' Here you need to write a subject to create a new case. For instance, write 'need support to create a new variation'.
Check to mark the box where it asks if you have attached the required spreadsheet and attach the file in the attachment section. You need to write about the issue to create a new case. Here we will ask help from the support team to create the variation for us. Now, click on 'Submit', and within 48 to 72 hours the support team will create the variation for you. After 48/72 hours you can see the variations on the AMZ detail page.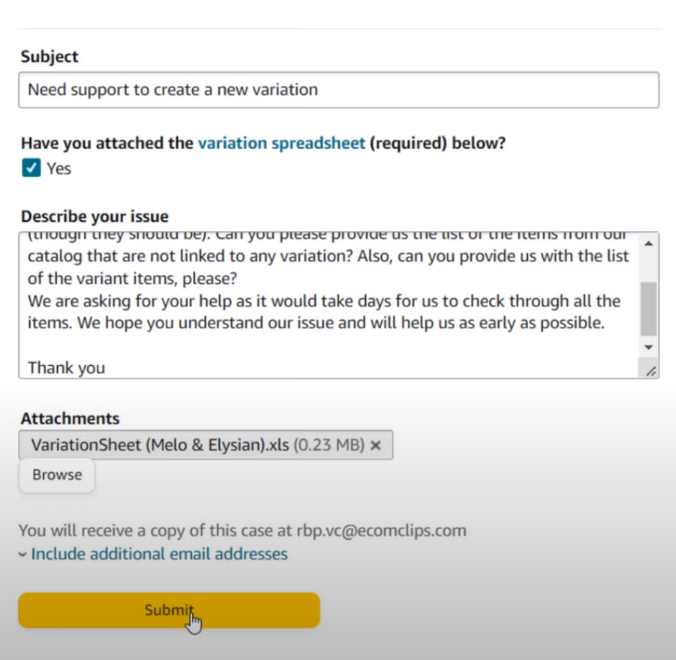 Conclusion
Amazon Variation Listing is a powerful tool that can significantly enhance your selling strategy on Amazon. By grouping similar products under one parent listing you can increase the chance of your product reaching many people. So, if you're looking to stand out from the crowd on Amazon and boost your sales, be sure to take advantage of Amazon Variation Listing. By following the tips and strategies we've outlined in this article, you'll be well on your way to success as an Amazon seller.
To start your business with high-selling items on Amazon, you can go with this post to see what items are selling most on Amazon. If you need more help selling on Amazon, please let us know your query at our mail address: info@boostonamazon.com