As an Amazon seller, it might be discouraging to watch a competitor's listing for a similar product perform better than yours. But what if I told you that you could increase your listing by adding your product to theirs? That's correct, by adding product matching to an existing Amazon listing made by another seller, you can boost your product's visibility, sales, and, ultimately, earnings. In this post, we'll look at how to make the most of this method and take your Amazon selling game to the next level.
Adding Products to Existing Amazon Listing
Using the add product feature, you can match a new product to an existing Amazon product. We know that Amazon's catalog includes products sold by a variety of sellers. It enables product matching to avoid duplicate listings and prevent the development from displaying multiple times. Good product matching immediately benefits you because it provides you with the most recent reviews and ratings. Customers will find your products if you match them with an existing listing.
Log in and Add a Product Listing
First things first, you need to log in to your Amazon seller account. Once you're in, you need to add a product listing. You can do this by clicking the inventory tab and selecting "Add a product" on the drop-down menu. Alternatively, you can click on the catalog tab and select "Products" on the drop-down menu. Both options will take you to the same page where you can start creating your product listing.

Match Your Item
The next step is to match your item to an existing product that is already listed on Amazon. You can use the product name, UPC, EAN, ISBN, or ASIN. In this guide, we will be using the EAN number. Once you enter the EAN number, you will likely see a long list of products. You need to choose an identical item from the list.
Specify Item Condition and Price
After choosing the product, you need to specify the condition of the item you're selling. Click the "Sell this product" button, and the only fields that are required are the price, the quantity, and the condition. You can indicate the seller's rescue, but once you submit your offer, you cannot change it.

Choose Fulfilment Channel and Add Additional Details
Now, it's time to choose your fulfillment channel. If you select Amazon FBA as your fulfillment channel, the quantity field will be removed. If you want to add additional details to your listing, you can turn on the advanced view. This is where you can specify your product tax code and a sale price if you plan to run a promotion on your item. You can also offer a gifting option for your package.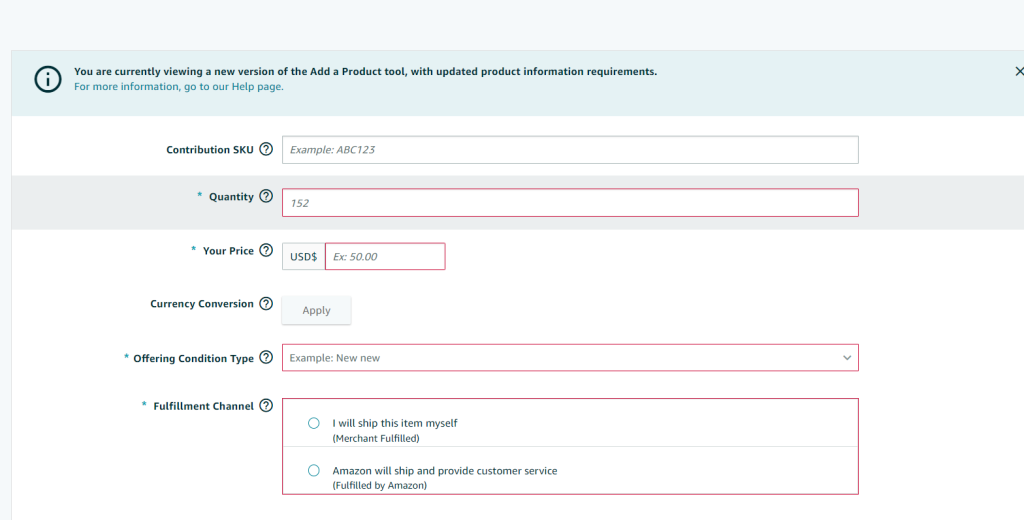 Save and Finish
If you want Amazon to remember your settings for future listings, check the box. Once you have filled in all the required fields, the save and finish buttons will be available. Just click it, and your item will be posted and available on Amazon within 15 minutes.
Conclusion
Competing with other Amazon sellers who have better-performing listings might be difficult. However, you can improve your visibility, boost sales, and eventually increase your earnings by adding your product to an existing Amazon listing. By connecting your item to an existing product by utilizing the add product option, you may accomplish this quickly. You may up your Amazon selling game and succeed as a seller by adhering to the straightforward procedures described in this essay. Don't hesitate to give it a try!
To start your business with high-selling items on Amazon, you can go with this post to see what items are selling most on Amazon. If you need more help selling on Amazon, please let us know your query at our mail address: info@boostonamazon.com