If you are an Amazon seller, you know how crucial it is to rank high in the search results to attract potential customers. However, with millions of products available on Amazon, it can be challenging to stand out from the crowd. That's where backend search terms and keywords come in. These hidden elements of your Amazon listing can have a significant impact on your visibility and sales. In this blog post, we'll explore the best practices for optimizing your Amazon listings using backend search terms and keywords. So, let's dive in and give your products the boost they deserve!
Purpose of Optimizing Amazon Listings with Search Terms and Keywords
We can't deny its effectiveness for good selling conversion. But if you are missing out on Amazon search term features. Amazon Search Terms are the words or phrases that customers type into the search bar on Amazon's website or app. This helps them to find the products they want. Amazon uses these search terms to match the customer's search with relevant products. Sellers can use search terms to make their products more visible on Amazon. By using relevant search terms in our product listings, our products can appear in the search results for a given search term. However, Amazon has rules about using search terms in product listings. Sellers can't use irrelevant or misleading search terms or include competitor brand names. If sellers break these rules, their products may be removed or their accounts suspended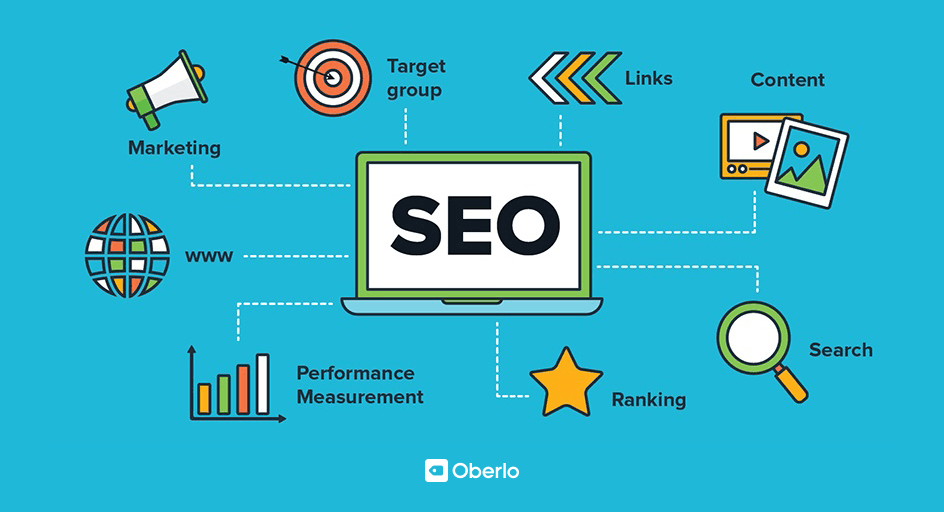 Understanding how to use search terms on Amazon can help sellers sell more products successfully. The problem with that approach is that it makes the listing read unnatural. Buyers can be confused and feel trust issues while purchasing in this circumstance. You can get rid of this issue. We can include those impressions with the help of backend generic keywords. Technically there are so many product-related high-ranking keywords that we cannot include in our product content. But still, we can input all these important keywords as backend search terms. These generic keywords can rank that product higher at the top of the Amazon search page. Here are the Amazon policies you need to follow to create the perfect search term
Importance of Relevant Search Terms
First, and most importantly, try to be relevant. If you're selling a bed sheet set, don't use the word 'certain' in the search terms. Instead, use synonyms or describe the type of product it is. For instance, you can use home decor or bedding accessories. A sheet set is a home decor product and a bedding accessory. Always stay within the character limits and don't provide excessively long content over 249 characters in the search terms.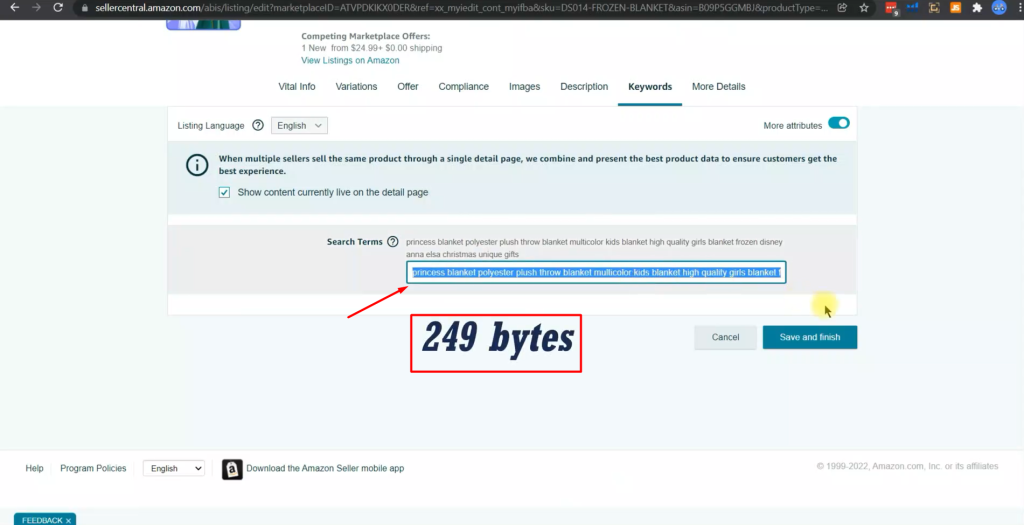 Secondly, be technical and avoid using words that are already in the title, bullet points, or descriptions. You can use variations of spelling but be careful not to use misspellings. Avoid using your brand names or any competitor's brand names in the search terms, as this will result in suppressed listings. You are not allowed to use any trademark brand name inside your product content, except when describing compatibility for your product. Do not enter any ASINs in the search terms field, as this can also make your listing inactive. Avoid using abusive or offensive terms. Also, avoid using subjective claims such as 'best', 'cheapest', 'amazing', etc. You are not allowed to use temporary statements such as 'New' or 'On Sale Now' in the search terms. Punctuation such as commas, semicolons, and hyphens is not necessary. Finally, avoid repeating words within the search terms field.
Creating the Perfect Search Terms
Having accurate search terms for all your products will greatly benefit your overall sales and engagement. Proper search term-optimized product lists will gain rank faster and become visible much faster. Here are the things you will need to do to get the best search terms for your products. If you follow each step to the point, your product will start gaining engagement and sales.
Step 1: Research Keywords
The first step is to research the best keywords related to your product using popular keywords research tools like Merchant Words, Helium 10, Jungle Scout, or Keyword Inspector. These tools help you find the most relevant keywords with high search volume for your product.
Step 2: Create a List of Top Keywords
Once you have a list of keywords, add them to your product title, bullet points, and description. Then, see what keywords are left over that you can use as search terms.
Step 3: Analyze Competitor's Search Term
To find more relevant search terms, you can also analyze what search terms your competitors or the best sellers use for the same product you're listing. Go to Amazon.com and search for your best keyword. Look at the top three organic results and copy the ASINs. Then, log into Helium 10 and go to the Cerebro tab. Search the keywords for those ASINs. This is one of the best ways to get the top relevant keywords.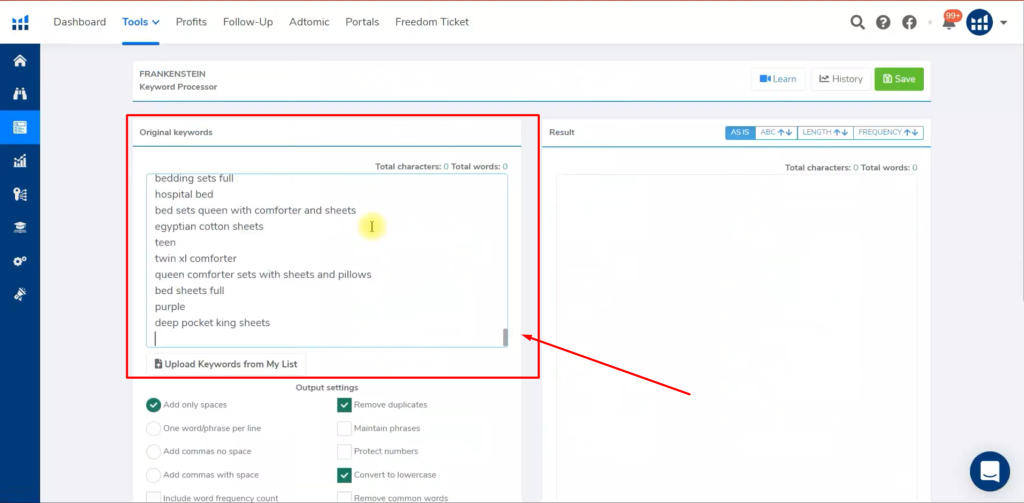 Step 4: Sort Relevant Keywords
Sort the relevant keywords based on high search volume and Cerebro's IQ score. Export the keywords to CSV or Excel and sort them based on position rank. Take the top 100 from this list and use Helium 10's "Frankenstein" keyword processor to remove duplicates.
Step 5: Search Term Character Limitation
Manually sort through the search terms and remove brand names and other terms that are not relevant. Limit the search terms to 249 characters. Go to the keyword section in your Amazon Seller Central and update the session field with the new search terms. Save and close it.
Step 6: Use Brand Analytics
Another way to find search terms for your product is by using Amazon Seller Central's brand analytics feature. This feature is only available to sellers with a brand registry. Get the Helium 10 extension in your browser and go to Amazon.com. Search for the product with your keyword and click on the X-ray tab on the Helium 10 extension. Copy the ASINs for the top sellers and enter them separately in the brand analytics tab. Select the reporting rates quarterly, weekly, monthly, or daily. Download the report in an Excel file and open it in Google Sheets or Excel. Delete the first row and column and copy the ASINs. Apply conditional formatting to the ASINs to differentiate them by color. Evaluate what search terms they used in their product backend and prepare your search terms.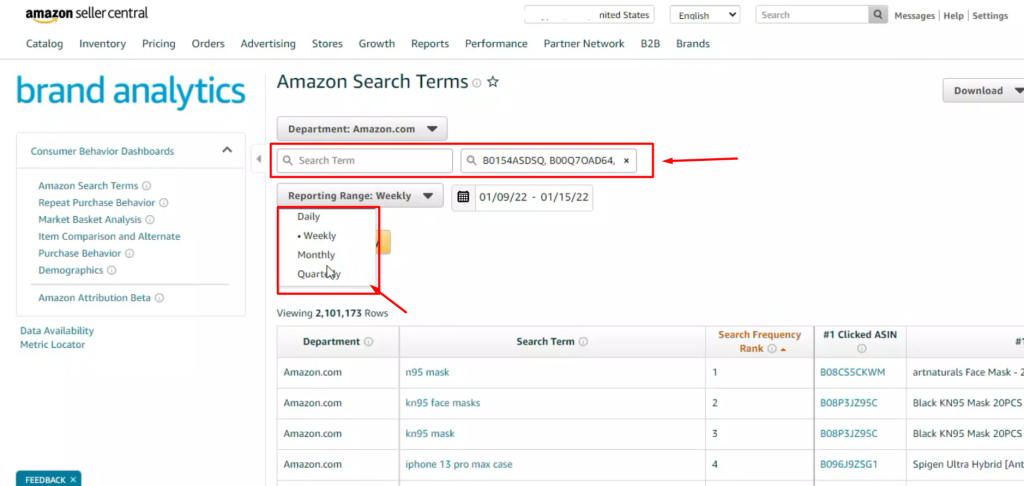 Conclusion
Optimizing your Amazon listings with the best backend search terms and keywords is crucial for increasing your product visibility, attracting more potential customers, and ultimately driving sales. By following the steps outlined in this article, including using popular keyword research tools like Merchantwords and Helium 10, analyzing competitor search terms through Amazon's Brand Analytics feature, and utilizing the "Frankenstein" keyword processor, you can create a comprehensive list of relevant search terms that accurately reflect your product and help it stand out in a crowded marketplace. Remember to regularly monitor and update your search terms to stay ahead of the competition and keep your product ranking high. With these strategies in place, you'll be well on your way to optimizing your Amazon listings and achieving greater success as an online seller.
If you think this post has been helpful for you, please share this post with your friends and the e-commerce community. You can also check out our website www.boostonamazon.com and get more updates! Keep browsing our blog to get more articles related to Amazon.